A Vision: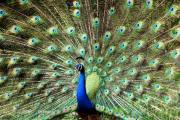 I had a vision of a beautiful peacock in full array.
I understood this to be the peacock in its glory in seeking a female mate during courtship.
I also heard the words, "Proud as a Peacock."
"Proud as a Peacock" means: Arrogant, vain or prideful.
The Birds: The peacock's stunning tail (as is seen as a symbol of pride or showing off, just as the bird uses its tail to dazzle a female mate)   © www. thespruce. com/bird.
The LORD has been showing me that there are numbers of those who are flippantly, giving, and turning over their responsibility for their own spiritual growth.
They are turning over their own responsibility into the hands of another, instead of trusting God.
If we don't have a personal relationship with the LORD, seeking after Him in prayer, and in His Words in the Holy Bible, we can be easily deceived.
Don't you realize that this is so dangerous?
Pastors and leaders are accountable for your souls, as one who must give an account, If you are submitted to them as your leader.
However, God knows that when we are grown, we are held accountable and responsible for ourselves.
We all must know the LORD and His Word for our own lives.  It can feel right and seem right, but we are to know the source and know those who labor among us.
Beloved, it's in the Bible!  There are so many false prophets and leaders out there!  Go to an online Bible and type a search for false prophets.
There are also many false believers, and false leaders of all types.
Do not be deceived by those who are charismatic or who seemingly have such a strong anointing.  It is true that false anointings, have an anointing…..  Hummmm…. let me say that again………….
It is true that false anointings, have an anointing!  But it is not God's anointing!
Remember the word "mixture" beloved!  Remember Balaam!
"But I have a few things against thee, because thou hast there them that hold the doctrine of Balaam, who taught Balac to cast a stumbling block before the children of Israel, to eat things sacrificed unto idols, and to commit fornication,"   Revelation 2:14 KJV.
Study for yourself Numbers 22 about Balaam.  He was a false prophet who used the mixture of a little bit of God's word and a little bit of his word.
Balaam was double minded and he would curse and bless.  Do you think his example should teach us something?
This is just one example of what we need to look out for.  The Word of God has everything you need to know about false prophets, leaders, and believers.
Do you realize we could be deceived?
It can happen!  It can look right, feel right, and sound right.
If we are not careful in keeping the Holy Spirit first place in our life as our guide, we could be deceived.
Hopefully, you will find pastors or leaders that will guard, defend, and stand in the gap for you!
They love you and will give an account to God for you.  We all are to be continually learning to trust and be discerning ourselves.
As a leader in God's Kingdom, I encourage those people who read or listen to me, to judge me by the Spirit and especially, the fruit of the Spirit.  I expect it!
You are to know those who labor among you and know me by the Spirit, the fruit and the Word.  They are one!  Amen?  I expect it beloved!
I believe in accountability and responsibility.  You need to look for godly leaders who have the fruit of the Spirit manifested in their lives.
Before I see any gift in operation, I want to see God's fruit first.
If I don't have fruit of the Spirit, don't listen or read anything I say or publish.
I personally also look for integrity, honesty and loyalty to God and to each other.
To allow just anyone to speak into your life, is not wise.  You must know those that speak the truth into you in love.
People who are mixture, are mixed up.  They don't care for you and their motives are not pure in God!
They have selfish motives to benefit themselves first.  You must know the Spirit by the Spirit.
They care about what they get from you.  Balaam was such a good example of a false mixture prophet.
When confronted, these false ministers say, "Look at the numbers and what is seemingly successful! in our midst!"
When God speaks, it's in such a way that confounds the wisdom of the so called wise.  Study 1 Corinthians 1:26-31 (below).
"For there shall arise false Christs, and false prophets, and shall shew great signs and wonders; insomuch that, if it were possible, they shall deceive the very elect,"   Matthew 24: 24 KJV.
When I saw that peacock in its proud stance, the feathers were all fanned out, in beauty of color and then in a high pitch sounding alarm to warn!
"Even the birds of the air know the signs of the times but MY people cannot discern,"  says the LORD.
I believe that the most diabolical sins are pride, haughtiness, and arrogance.
The Pharisees thought they knew the scriptures, and the very scriptures speak and reveal who Jesus was.
Lucifer was cast to the earth because of his pride and rebellion.  When a person cannot see or hear God anymore; it is a desperate place to be stuck in.
In such cases, many have departed long ago when they had no root in themselves and they wandered away.
Such individuals, traded in their personal relationship, with a private religious practice.
These want to be in control; and with private manipulation, of interpretation were cast aside in their own social club order.
All that was left was a memory of time gone by.  They idolized what was supposed to remain in God's house among His people and they turned away to what was comfortable and easy.
When God sent His servant among them, they silenced Him and cast them out.  Do you think the LORD is pleased with the treatment of His Servants?
Once a believer develops a spirit of pride and become rebellious, it causes a door to be opened to deception and the other spirits will follow.
When God sends and warns, it can look fine by the eye.  And those who trust in feelings will come to an abrupt end.
When a people stop following God's Word and depend on feelings and emotions, it can disable so many that have no discernment.
"Hear My Voice beloved, I have given you free choice and free will.
No matter how far you go, I will never take the legal right away of free will and free choice.
No matter how much you pray for loved ones and beseech me in prayer with tears, I cannot go against their free will and free choice!
You break My heart beloved, when I hear you as I weep with you.
I cannot override what is rightfully yours to do in My name. 
You received the free gift, now it is up to you to learn My Word.
Do you understand why I urgently plead with you to guard your heart, for out of it come the issues of life?
Instead of depending on My Word and your relationship with Me, you can easily begin to depend on others, for understanding your feelings, and emotional acceptance."  says the LORD.
Cults are just that.  They have a strong charismatic leader and they seem to be okay, but then the leader veers off course into deception.  Then you begin to notice things that trouble you, but leadership tells you not to question leadership.
Why?  Because leadership have their own personal revelations from God.
After yielding, and surrendering your free will, and free choice over to them, you become ripe for the picking!  This can rapidly become strong delusion.
Then you are no longer your own anymore.  You no longer have a free choice or free will because you yielded it over to that leadership.
Then everything you do is according to the acceptance of that leadership and their opinion of you.
Do you realize you are the one that controls your free will and free choice?
It is through strong delusion that will lead you into control with whomever that leadership is?
Jesus can't help you in this decision, because He can't go against your free will and free choice!
Beloved, all that keeps you chained to cults, religious churches, and social religious clubs is your free choice and free will.
The enemy knows once you learn about having a free choice and free will, he will do all he can to try and keep you ignorant from learning this truth.
Don't submit to strong delusion, take back everything God gave you!  Oh Yes!
They will also try to manipulate and control you and put you in fear by saying that 99% of all the people who leave that church will fall away from God!
So they give you a bon voyage with a quick kick in the rear and sent you out of there with a death sentence!
Does this sound anything like Christ?
"Even him, whose coming is after the working of Satan with all power and signs and lying wonders, and with all deceivableness of unrighteousness in them that perish; because they received not the love of the truth, that they might be saved.  And for this cause God shall send them strong delusion, that they should believe a lie: that they all might be damned who believed not the truth, but had pleasure in unrighteousness,"   2 Thessalonians 2:9-12 KJV.
Remember the spirit of Balaam?  That spirit is cunning, however it is so double minded and unstable in all its ways.
If the believer can discern the dangerous mixture, it can be stopped.
While in the form of worship, these deceivers a lot of times don't even realize they are mixed up!
These bring mixture in their realm of experience and the enemy usually slips in a deceptive mickey poured into their flow of ministry.
This happens even among the famous and elite; and among those who think their version is of private interpretation!  IT'S MIXTURE!
Beloved, remember My warnings that there will be wolves among you.  Yes, they come in suits and wear what pleases their social status among the people.
They study a group or a person for some time, so that they know their prey.  Like a black widow spider encapsulates its victim once caught on the spider's web, the spirit of Jezebel is much like the black widow as it seeks to control and manipulates especially Christian people and Ministries.
The principality seeks to have a position of authority.  Knowing that we can be like God, has an allure to those who are controlled and possessed by a Jezebel spirit.
"Thinking to have full understanding and wisdom.  YOU had better be ready to be fully understood.
My hand is moving through those ignoble and such who are called useless, lacking wisdom, and those who are wrecked.
Most often, these have on their body, the branding iron of afflictions; these tossed and rejected in society, and now, even in your churches,"  says the LORD!
"I AM not pleased with those who boast of a fine education of sorts, but are meagerly grateful, for all I have taught and will continue to teach.
These seek the signs and wonders, if they are of Me?
You best be ready to be "touched" if you touch My Glory in retrospect when I reach a city.
You think you know the total scripture and have ALL Knowledge and Truth.  Didn't the Pharisees think they had the law all figured out?
Yet they did not see Me, when I was in their midst!
The house of My order, must be set right. Make all things right, according to My Word!" says the LORD.
If you are not accountable and responsible as a minister, you are on the enemy's hit list.
How easy it is for the enemy to slip in when the head has lost its edge and found to be self deluded.
Selah, and may we really think calmly about it!
Glory Only in the Lord
"26 For you see your calling, brethren, that not many wise according to the flesh, not many mighty, not many noble, are called. 27 But God has chosen the foolish things of the world to put to shame the wise, and God has chosen the weak things of the world to put to shame the things which are mighty; 28 and the base things of the world and the things which are despised God has chosen, and the things which are not, to bring to nothing the things that are, 29 that no flesh should glory in His presence. 30 But of Him you are in Christ Jesus, who became for us wisdom from God — and righteousness and sanctification and redemption — 31 that, as it is written, "He who glories, let him glory in the Lord,"   1 Corinthians 1:26-31.
In HIS Grace and Mercy,
~ Sherry Edwards Mackey
---